Vacation Hub International - Review -
Balkan Cruise
Vacation Hub International Review
Balkan Cruise Norwegian Cruise line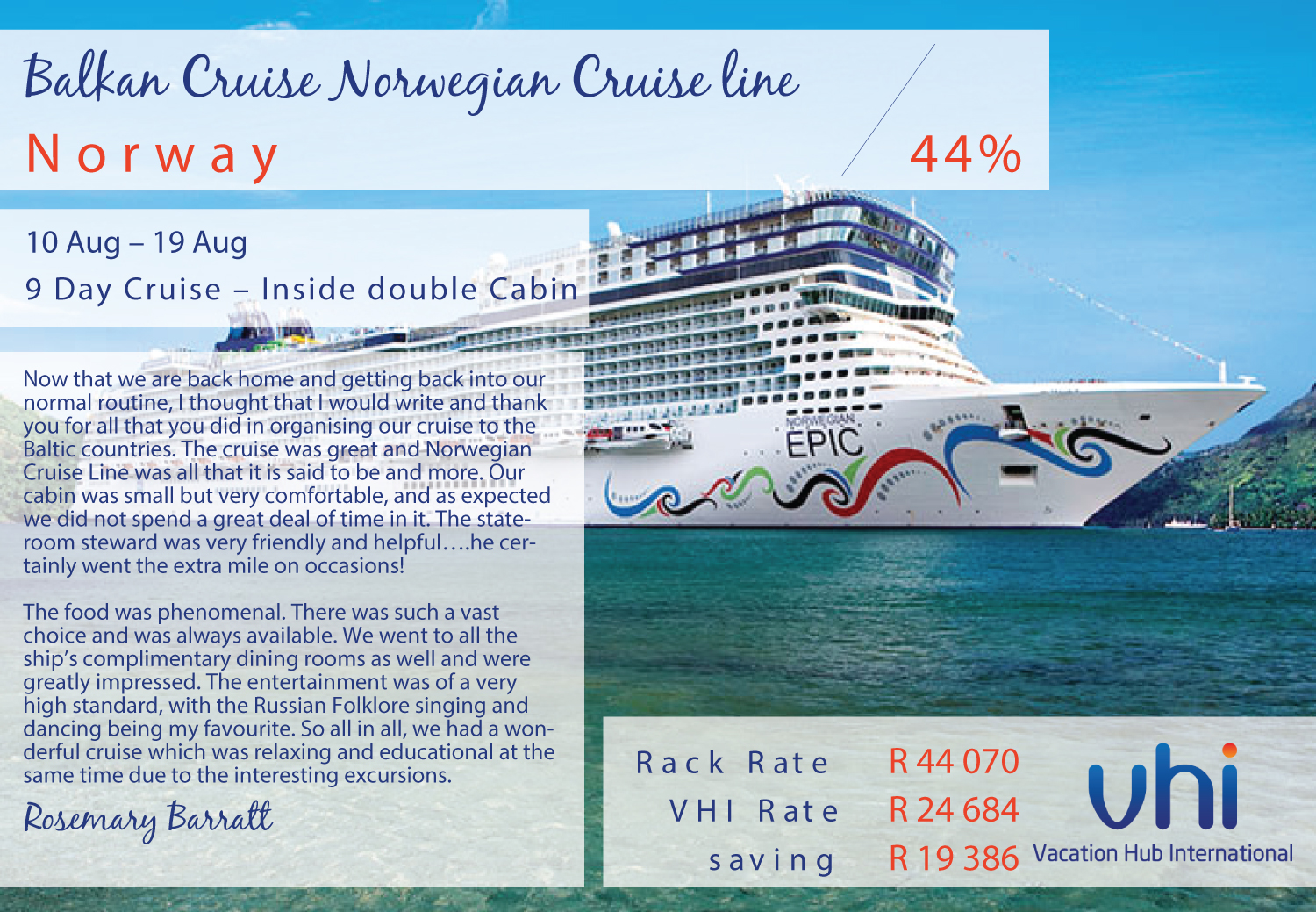 "Now that we are back home and getting back into our normal routine, I thought that I would write and thank you to Vacation Hub International for all that you did in organising our cruise to the Baltic countries. The cruise was great and Norwegian Cruise Line was all that it is said to be and more. Our cabin was small but very comfortable, and as expected we did not spend a great deal of time in it. The stateroom steward was very friendly and helpful….he certainly went the extra mile on occasions!
The food was phenomenal. There was such a vast choice and was always available. We went to all the ship's complimentary dining rooms as well and were greatly impressed. The entertainment was of a very high standard, with the Russian Folklore singing and dancing being my favourite. So all in all, we had a wonderful cruise which was relaxing and educational at the same time due to the interesting excursions.
Unfortunately, we didn't go to Sweden, as the Captain and Port Authorities felt that the winds were too strong and we would not be able to leave Stockholm in time to arrive at Copenhagen as scheduled where most people were disembarking. This was a disappointment, but maybe will be a reason to visit Sweden at a later stage!
Thank you so much for all the work you put into making the reservations and organising a good price! I apologise for the initial 'rush' and putting you under time-pressure when we changed from one destination to another.
I trust that we will be working together on many more occasions, and build a good working relationship.
Kind regards,"
Rosemary Barratt
Where to stay in Norway
Search more Hotels in Norway